Greener Cities Crop Up, Starting in California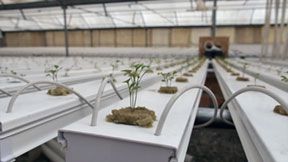 It's not easy being green these days — especially when you share space with more than 3 million people. And yet, one Southern California company is making it its business to do just that.
BP Gardens, a subsidiary of GreenGro Technologies (OTC: GNRH), an Anaheim-based eco-friendly technology company, is taking local farming in a crowded urban environment to a whole new level by designing vertical gardens. Its hope, says CEO James Haas, is to provide communities, restaurants, and grocers with locally grown, pesticide-free fruits and vegetables.
BP Gardens began as a seed of an idea from Haas, who says, the thought was to use as little water and energy as possible, while still yielding fresh produce and herbs for customers.
According to Haas, there will be two separate locations and growing methods. BP Gardens Buena Park currently sits on 4.5 acres in Anaheim, California, and features a 50,000-seat full hydroponic grow system, while its sister company, BP Lincoln Gardens in northern California, employs zero-waste, 80 percent water-saving aquaponics solution with a 40,000-seat capacity.
"With California consistently facing severe droughts, these systems will help change the way we grow [food], modernizing its processes to become more sustainable for the future," says Haas.
The Buena Park location has currently completed its construction and has planted its first crops, which is ideal for leafy greens, while Lincoln is in the process of installing floating race-ways and introducing fish in preparation for its first crops.
This location will focus on the growth of heavy greens and Sacramento Perch for its customer base. Between the two locations, Haas said he anticipates growing 45,000 heads of lettuce a month.
In addition to finding a way to combine technology and food production, while reducing the company's own carbon footprint, Haas has also stumbled on a niche market in the medical marijuana industry. While GreenGro does not participate in the sale of medical marijuana, Haas said GreenGro's equipment and advanced hydroponic systems benefit that industry as well.
Although Haas estimates that about 60 percent of his customers buy his gardening equipment to grow medical marijuana, he says he remains focused on his BP Gardens projects, and isn't content to stop with the California market, but believes he can take his idea worldwide.
"BP Gardens want to go big," says Haas. "We want to be the source for food and not have to have it travel, and save the Earth."
For more information, visit http://bpgardens.com.