Take Advantage of Programmable Thermostats to Maximize Energy Savings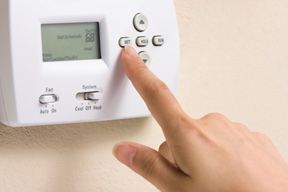 From smart phones to programmable thermostats, today's electronics come equipped with advanced operating systems that make life easier and more efficient. The challenge is knowing how to take full advantage of the capabilities of these devices.
Consider indoor environment devices like programmable thermostats. Programmable thermostats are capable of controlling the entire heating, ventilation and air conditioning (HVAC) system – from heating to indoor air quality and energy management.
"Adjusting the temperature up and down doesn't equate to savings or even comfort in the home," said Jonathan Payne, product manager of programmable controls at Carrier. "The key to total comfort is the homeowner's ability to control the temperature, humidity, air circulation and energy use."
Although many homes have programmable thermostats, they may not be programmed or used properly. To truly realize the advantages of a programmable thermostat, consider these tips:
1. Choose a thermostat that manages your system properly and efficiently. Select a thermostat that is not only easy for you to understand and program, but one that controls all of the equipment in your HVAC system, including an air purifier, humidifier, air conditioner, furnace and/or heat pump.
2. Have the HVAC control or thermostat installed by a Carrier authorized dealer or other HVAC expert to ensure the wiring and settings are configured to match the needs of your specific system.
3. Choose a program that fits well with your lifestyle, and stick with it. According to the Environmental Protection Agency (EPA), energy can be saved if you keep energy-saving set points activated for longer timeframes. So, you could leave home energy-saving set points on during the work/school day, or at night when family members are asleep, for instance.
4. Avoid overuse of the temporary "hold" feature. If you consistently "hold" or over-ride the pre-programmed settings, you could be wasting energy. The EPA suggests that the "hold" and "vacation" settings should be set several degrees warmer and cooler in the summer and winter months, respectively, and only used when you're away from home for an extended stay.
5. Try not to achieve a quick fix. The EPA's Proper Use Guidelines for Programmable Controls indicate that you will not heat or cool your house faster by adjusting the temperature on your thermostat to the extremes – up to 80 degrees or down to 30 degrees.
To learn more about Carrier programmable thermostats, call 1-800-CARRIER or visit www.residential.carrier.com.