How to Beautify the Backyard for Outdoor Entertaining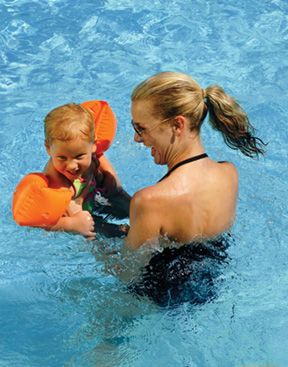 If the blanket of pollen coating every car in the lot hasn't clued you in yet, the torrential rain storms may do the trick. After a sluggish start, spring is in full swing, and summer is on its way.
That means you're running out of weekends to designate to spring cleaning. It also means it's time to beautify the backyard—yes, now. Family and friends love spending sunny afternoons outside, particularly if there's a pool involved.
Use the following advice to prepare for outdoor entertaining, and get the most out of your lawn, garden or patio.
1. Grow some privacy. Unless you live in a secluded cottage, it's nice to have a fence or row of bushes to shelter your home from the neighbors. An arbor, trellis or pergola with hanging vines is another way to create some privacy. Flowering vines—like trumpet vines, clematis or morning glory—help create a romantic garden full of butterflies and hummingbirds. These structures also offer a wind-break and cast some shade during the hottest summer months.
2. Get cozy outdoors. Decks, patios and even a flat portion of the yard can be perfect for outdoor entertaining. Start thinking cook-outs, pool parties and game nights. Find some affordable patio furniture, and create cozy clusters with chairs, sofas and small tables. If you're looking to add more home decor elements, toss some brightly colored throw pillows, umbrellas and potted plants into the mix to bring the space together.
3. Simplify pool maintenance. Family pools open up a whole new world of summer fun. But like any solid investment, pools require a little maintenance. Using a pool cover can reduce pool heating costs by 50 to 70 percent. If your pool struggles with appropriate chlorine levels or cloudy water, BioGuard's new Pool Tonic removes phosphate and other unwanted contaminants. The result is clear beautiful water that makes everyone want to dive in. For complimentary water testing, bring a sample of your pool water to any BioGuard dealer. They'll find the right prescription for your pool. Visit www.bioguard.com to find your nearest dealer.
BioGuard's Smart Shock is another way to reduce the complexity of pool maintenance. The formula incorporates the key parts of pool care into one easy-to-use product. Smart Shock requires no mixing or pre-dissolving, and you can re-enter the pool in as little as 15 minutes.