Homeowners Let the Sun Shine In With American-Made Solar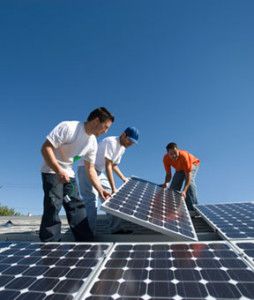 For more than a decade, homeowners have embraced going green in various ways. Now, a growing number of consumers are choosing American-made solar panels for their homes—and the solar installation industry is booming.
Currently, about 13 gigawatts of solar electric capacity have been installed nationwide—enough to power more than 2 million households. Underscoring this trend is that 82 percent of people who responded to a recent solar survey said they support making solar panels on American soil.
"We've all heard about the importance of manufacturing to the American economy," said Robert Fortunato, whose California home hosts 26 solar panels made by SolarWorld in Hillsboro, Oregon. "We selected our U.S.-made solar system for its quality, reliability and financial return and because we think it's important to support American workers."
To this end, solar installers and electricians offer a range of domestic products.
"We made a decision at PetersenDean to only source our solar products from North America. As a result, we're supporting the American economy, supporting American workers and reinvesting those dollars back in America," said Jim Petersen, founder of PetersenDean, a nationwide solar and roofing company.
According to industry experts, here are the top four reasons that homeowners select solar panels from American manufacturers:
• Quality and reliability. A residential solar system is, in effect, a power plant on your rooftop that is designed to last at least 25 years. Consumers trust American solar manufacturers to stand behind their product guarantees because these companies rank high in measures of quality, responsiveness to warranty claims, accessibility for customer service and compliance with safety requirements.
• Sustainability. For those Americans who are "greenies," there is little logic in buying a solar system made in Asia and shipped on a diesel-burning cargo ship halfway around the world. Instead, homeowners are opting to buy select American-made solar panels, produced according to stringent environmental, labor and quality standards, to reduce environmental impact.
• Energy independence. Solar power represents an important tool for achieving energy independence for the U.S. Just as people believe the nation should not have to rely on the Middle East for imported oil, many feel that America should not depend on foreign nations for solar technology and manufacturing.
• American job creation. The U.S. solar manufacturing industry employs thousands of Americans across the country. Studies show that technology and manufacturing jobs, with comparatively high wages and benefits, are the types of jobs that the U.S. should aspire to create and maintain.
To learn more about American-made solar power, visit www.solarworld.com/MadeinUSA.